The purpose of this book is offering every one of you who reads it the opportunity of having a clearer perspective of life – God's greatest gift. Life really is a miracle, and it is so easy to take that for granted. You are not here by chance; I can assure you that. You are God's miracle, not by luck or chance, but by purpose.
Each and every one of us are here for a divine reason. We are equally gifted by Jesus Christ our life force energy, by God. We are unique in our physical appearance as well as our spiritual essence. We have one soul that is on a journey to learn what it is like to live on the earth plane. And this is the earth school. We are here for a very short period of time. Don't leave here not recognizing what it is you came here for.
Introduction to guided meditation & use of crystals

As I wrote in my previous book, –Mind, Body, Spirit and Discovering the Purpose of Life, –guided meditation is one of many holistic healing modalities that has many benefits. The practice of guided meditation is dated back to the beginning of time. We all need to quiet the mind, to let go of all the chatter of everyday life, –to recharge, replenish and rejuvenate the soul.
Meditation can be implemented for long and short periods. We live in a world that is constantly cluttering our lives. We need to take time out for ourselves. When we do that, –we feel more relaxed. We can give more of ourselves and to others in positive ways because we are refreshed. Meditation lifts our spirit to a higher level of vibration so that we can handle life's troubles and triumphs to our best capability.
Press Release
https://www.24-7pressrelease.com/press-release/489532/diane-calabrese-celebrated-for-dedication-to-the-fields-of-recreational-therapy-and-education
New book offers a variety of meditations to enable one to release their daily stress, built up tension and toxic energy
Diane Kurtz Calabrese announces the release of 'Meditations for the Mind-Body-Spirit'
CENTEREACH, N.Y. — Diane Kurtz Calabrese was a recreational therapist for 30 years and she used guided meditations in practice. Her patients claimed her voice was soothing to them and she enjoys writing, so she decided to create her own guided meditations to help bring peace, joy, and relaxation to others.
"Meditations for the Mind-Body-Spirit" (published by Balboa Press) offers a variety of meditations to choose from to bring others into a place of peace, serenity and tranquility to let go of the everyday stresses of life. The purpose of this book is to relax the mind-body-spirit, fostering hope, inspiration and zest for life. It includes a free audiobook with to enhance the guided meditation experience.
"The world is becoming more and more stressful in modern day living. Many have lost faith in God, and many are struggling with addictions, mental health issues and loneliness. This book offers coping mechanisms through meditation to help ease some of that burden," Calabrese says.
When asked what she wants readers to take way from the book, Calabrese answers, "I want readers and/or listeners to understand that they are not alone on this earth plane and that through guided meditations, we can learn to relax, restore faith, hope and inspiration. We can see our unique gifts and appreciation for life, whether you are a believer in God or not."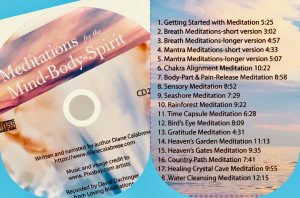 Order Audio Book and CD
Meditations for the Mind-Body-Spirit audio book – Password Protected
https://www.paypal.me/dianecalabrese1 – PURCHASE the audiobook through PAYPAL
Purchase the CD from the Author